Commentary by Tommi Kerr.
On Wednesday afternoon, the Chancellor of Exchequer, Rishi Sunak, delivered a typically impressive performance in the House of Commons. Outlining the next phase of governmental support for the British people, he spoke passionately about protecting livelihoods before announcing an imaginative set of measures intended to kick-start the UK economy.
The speech – entitled 'A Plan for Jobs' – contained several notable soundbites. The measures themselves were eye-catching, with a floundering hospitality sector receiving special attention in the form of a VAT reduction and a new policy dubbed 'Eat Out to Help Out' – cue much innuendo on Twitter.
Aside from those points of policy, another part of the speech caught the attention from a Scottish perspective. It read like a piece of poetry.
"No nationalist can ignore the undeniable truth: this help has only been possible because we are a United Kingdom"
This riposte was particularly pleasing to hear given the incessant politicking of Scotland's secessionist movement throughout the Coronavirus outbreak.
As someone who is fiercely proud of Scotland's place in our United Kingdom, it was satisfying to see the Chancellor place the SNP – and indeed the Welsh nationalists – back into their box with a not-so-gentle pat on the head.
The comment was never likely to go down well with Scottish nationalists, but then what's new? There isn't a sentence to be uttered by an English politician that would elicit anything other than a contemptuous response from those who wish to partition Scotland.
True to form, It didn't take long for the SNP to find fault with Mr Sunak's blueprint. Holyrood's Finance Secretary, Kate Forbes, immediately tweeted a disingenuous attack line bemoaning the percentile of the overall £30bn purse that would be administered by the Scottish Government.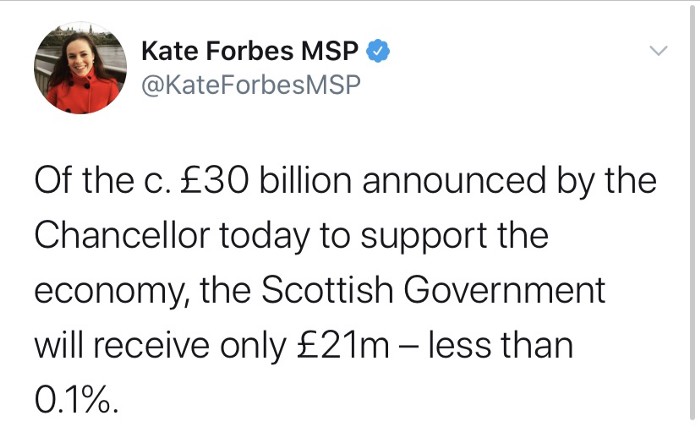 This tweet is so telling in that it deliberately attempts to conflate the Scottish Executive and the Scottish people themselves. A classic move straight out of the nationalist playbook. It's a very deliberate tactic to portray Scots as being given a low level of support by the UK Government.
Think about why they're upset for a moment. The SNP is having a tantrum because the British Government has the audacity to use reserved powers to support millions of Scots directly, without having to involve the SNP at Holyrood.
This petty petulance is par for the course when it comes to the SNP. It's been woven into the First Minister's approach to fighting Coronavirus from the start. Where an opportunity to diverge from the UK-wide strategy has presented itself, Ms Sturgeon has taken it with gusto. Across Scotland, ordinary people joke about waiting a fortnight and receiving a carbon-copy of Boris Johnson's announcement but with tartan ribbons 'round it. The result is a sustained period of lockdown.
Aside from the above, Kate Forbes' comments are factually incorrect in that they ignore the impact of Barnett consequentials. But the truth is a mere inconvenience when there's a grievance in play.
It's high time that Scotland's anti-nationalist opposition parties effectively held the First Minister and her tired administration to account on these matters. That means calling out their 'divide and rule' tactics but it's also about being unapologetic in making the positive case for our United Kingdom. There has literally never been a better time to do so.
At the time of writing, almost 800,000 Scots are essentially being paid by the British Government. The union dividend has never been more tangible in the lives of ordinary Scots. That should embolden the likes of Jackson Carlaw and Richard Leonard, but the former is struggling to fill the shoes of the formidable Ruth Davidson and the latter is frankly useless.
As a Conservative, I am concerned at this vacuum of leadership. And it's even more pronounced when we see a UK Government politician as effective as Rishi Sunak calling it out.
We should welcome these sound-bites, but recognise that we must re-double our efforts as a pro-UK, anti-nationalist collective and do so now to avert another SNP victory in the Scottish Parliamentary election polls next year.
The challenge is set.
Tommi Kerr is a Scottish Conservative, who is against Nationalism in all its forms. Follow him on Twitter @tommikerr
---
You can help us fight back
Next May, there's going to be a Scottish election, and there is no doubt that Nationalists will use it to continue to agitate for a disastrous referendum. Let's stop them.
If you can, help us get more of these articles out to more people, by pledging a monthly donation. Everything you donate will be used to fight back against their ugly Nationalism. Together we can turn the tide.