This morning, like many parents in Scotland, I was up early for results day. A few minutes after 8am, my daughter appeared to relay the news. But, something didn't seem right. Instead of As, two of her results, for Physics and Computing Science, were Bs.
My mind went back to her last parent-teacher conference, just as the Coronavirus crisis was starting. Her Computing Science teacher was effusive in praise. 'I'll be recommending an A,' he said.
Later this morning, I received an email from the school, confirming that he had indeed recommended an A. So had her Physics teacher. Then the questions started: How did this happen? Did it happen to everyone? What methods were used?
Judging by the angst on social media, this scene has been replayed in thousands of families across Scotland.
According to Education Secretary John Swinney, teachers' estimates were 10.4% too high, so 6.9% of those estimates were adjusted up and 93.1% were adjusted down, with 96% of all adjusted grades changed by one grade.
In a statement today, Swinney seemed happy that results only dropped by one grade. Sure, that'll make the kids that lost University places or saw their hopes dashed feel much better.
Even worse, according to education experts, the downgrading has not been applied equally. If a school had historically low levels of educational attainment, then its results were downgraded more. The poorest pupils Higher pass rates were reduced by 15.2 per cent between teacher estimate and the final result. For the richest, it was just 6.9 per cent.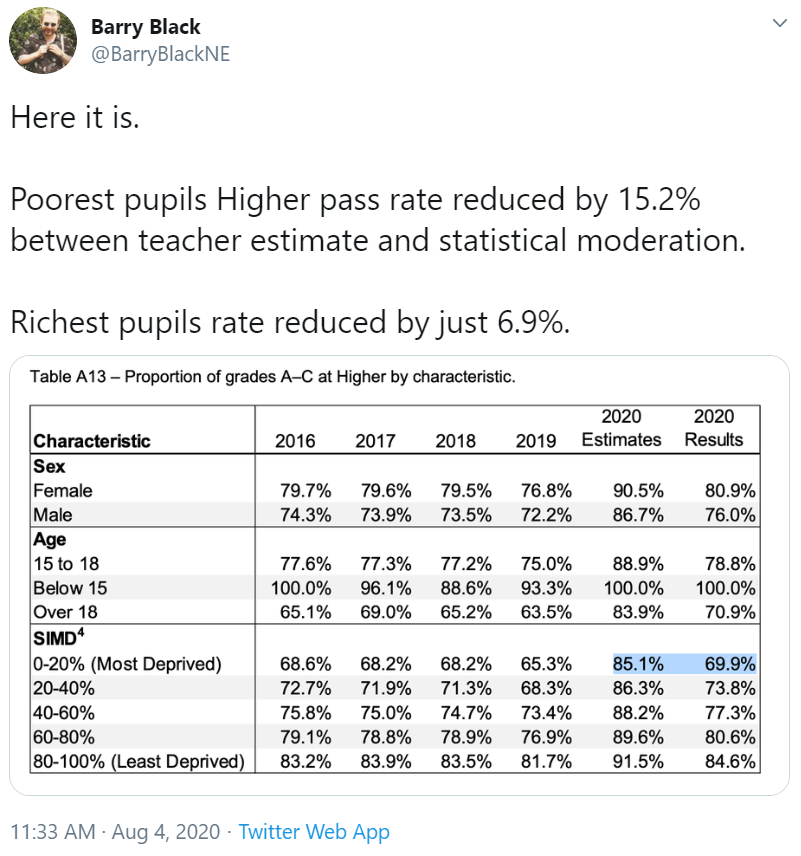 That means bright kids at low-quality schools are doubly punished. Not only is the quality of their education poorer, but when they do well depite that, they're knocked back by an unfair qualification system.

The situation is so bad that Mhairi Black has even asked for a review.
Yet Swinney seems happy that the overall pass rate is up. One can't help thinking that a thumb was put on the scale to give a good headline: 'Scottish Education Rates Improve'.  
A long line of Nationalist education failures
In August 2015, Nicola Sturgeon declared that education was the policy area that mattered most to her.
Let me be clear—I want to be judged on this. If you are not, as First Minister, prepared to put your neck on the line on the education of our young people, then what are you prepared to?
Since, in over 13 years of Nationalist ineptitude, we have seen no actual evidence of a beheading yet, I'll list the SNP's education failures in the hope that parents may finally lead her to the guillotine.
Scottish education, once something Scots boasted about, has declined since 1999 to the point where reading and maths are just about world average, and science is below average.
Scottish education standards are now worse than in England.
To hide declining standards, the Scottish government cancelled annual surveys of literacy and numeracy that had, on the whole, replaced them with new tests that were not fit for purpose.
Class sizes are nowhere near what was promised.
And a personal note, disruption is rife and resources are inadequate. My son was not able to study Physics for months, due to a teacher shortage.
Like thousands of parents, I will be appealing my daughter's results. If only we could appeal the Scottish Government's results. In fact you can, and it's easy: the easiest way to stop inept Nationalist control over Education is to vote for the strongest anti-Nationalist candidate in your constituency.
It's a bit like a multiple choice exam with a single, easy, answer. Put your cross next to anyone but the SNP or Greens and give Nicola and her cronies a lesson they won't forget.
Mark Devlin is the publisher of The Majority
PS: A final word to Nationalists reading this: You have caused this. We cannot get back to normal politics where health, education, and jobs can be given proper attention until you stop ruining our politics with your immature dreams of Separation. Stop being so selfish and let the rest of us move on.
Help us fight back
In just a few weeks, The Majority has grown to over 6000 social media followers and hundreds of thousands of article views. But, we still have a long way to go to beat Nationalist media, like The National newspaper, which pumps out ugly propaganda to over 100,000 followers.
If you can, please pledge a monthly donation so that we can grow and be an even stronger voice against the ugly Nationalism that has engulfed Scotland. Thank you.