Summary
As a result of a hack, and what appears to be an error on YouTube's side, The Majority's YouTube page has been denied for monetisation. We spent a long time trying to get over 1000 subscribers and it would mean a lot to us, and to our followers, if this problem could be fixed.
Detail
Dear Ms Lomax, I am writing to ask for your help to resolve a situation with my YouTube account that I believe has happened due to a hack and an error with YouTube's systems.
My name is Mark Devlin and I run a political advocacy group, called The Majority, which aims to represent the majority of Scots who voted to remain in the UK in 2014. We have just under 30,000 followers on Twitter, and a similar amount on Facebook.
I have had a long career in print and online publishing. I founded and published over 700 issues of Metropolis, Japan's No. 1 English magazine, and founded japantoday.com, one of the world's largest news sites. As a businessperson, I do my best to work fairly. I am not interested in scams or buying traffic or any shortcuts. I believe, and know, that if you make good content, people will come.
You can find our more about me at my LinkedIn profile: https://www.linkedin.com/in/sparkzilla/
In late 2021, I started a video podcast on The Majority's YouTube channel, about Scottish politics, which developed into The Majority Show. There is nothing unusual about the show: Myself and two co-hosts discuss Scottish politics. You can see the show here:
At the time of writing, we have livestreamed 70 one-hour shows. Until recently, our growth was very slow, and it took us well over a year for us to get to 1000 subscribers. Because it had been such a slog to get to 1000, we were ecstatic we had finally made it to our target and could finally monetise the channel. It felt like a big achievement for us.
Of course, I fully understand that with small numbers that we wouldn't make much money, but it was a good sign for the future. And, in fact, since then, our views have increased considerably. Instead of getting 500 views for a show, like we did in the beginning, our last show was viewed by 7000 people and we gained 100 subscribers in a day.
But…
As soon as we passed the 1000 subscriber mark, around April 10, 2023, I clicked the Earn button to start the process to monetise the channel. I soon received an email alerting me that I could not monetise the channel because I had a duplicate Adsense account that was conflicting with my account, which is under the email sparkzilla@gmail.com.
At first I thought that the duplicate Adsense account was for my other business, which is called Newslines. Newslines has had an Adsense account for many years. It collects revenue from display ads on the newslines.org website, but it is a completely separate business from The Majority: it has a different bank account and business address.
You can see Newslines here: https://newslines.org/elon-musk/
(In case you get confused, I will summarise the account statuses at the end of this letter)
However, I continued to get rejected for having a 'duplicate account'. So I thought it would be best to try to put The Majority's new Adsense account, under my Majority email (mark@themajority.scot). This way, sparkzilla@gmail.com would only be associated with the Newslines Adsense account, while mark@themajority.scot would be associated with The Majority's new Adsense account.
I discussed this with YouTube support in ticket: [3-0355000034104]
I transferred The Majority's brand account to mark@themajority.scot, but had to wait a week until that account could become the primary owner.
In the meantime, I looked at the rejection email more closely. In it, it said that the duplicate account was actually nhor..@ezoic.com.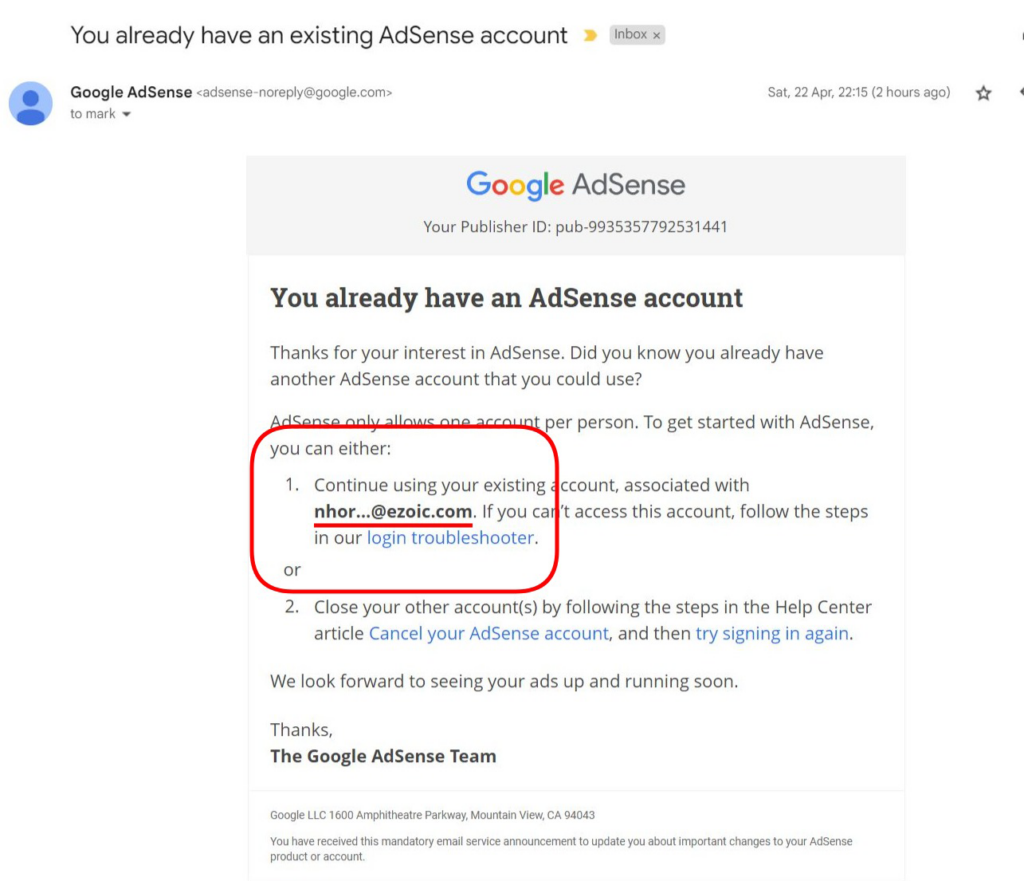 I do not know who owns this email. I do not know the full name. I do not have any emails from it, nor have I sent any to it. However, I recognised the company name, Ezoic, which is an ad optimisation service I used for Newslines in 2017 for a few months.
Then I saw that on my Newslines account (sparkzilla@gmail.com) there was a third-party association from Ezoic. But even though I removed that third-party association from the sparkzilla@gmail.com account, I still got a 'duplicate Adsense' account rejection email, still citing that nhor..ezoic.com was the duplicate.
After the week passed, I was able to change the primary owner of The Majority's YouTube brand account to mark@themajority.scot. I then removed sparkzilla@gmail.com from The Majority's brand account.
I thought that this would work. I had removed the Ezoic third-party association and now The Majority's Adsense and Newslines Adsense were under completely separate accounts.
But…
I received an email saying that The Majority's Adsense account had been disabled, due to 'invalid traffic or activity' on the account:
We have detected invalid traffic or activity on your account (Publisher Code: pub-9935357792531441) and as a result it has been disabled. Because of this, the ability to serve and monetize through all products which depend on AdSense will also be disabled (for example, AdMob and YouTube).
But that account, The Majority's account, had never even been approved! How could it have 'invalid traffic' if I hadn't even used it?
I tried to appeal, noting the above, and saying that I was discussing this matter with YouTube support, but that was rejected too [3-0261000034240].
The only thing I can think of that may have caused this 'invalid traffic' suspension was that, around the same time as I was initially applying for The Majority's Adsense account, my work computer was hacked. The hacker was able to get around my two-factor authentication codes and bought some gift cards from Amazon and another site. I changed all my passwords and had to cancel a credit card. This hack also affected my social media accounts. I was locked out of The Majority's Facebook account for over a month. Thanks to Facebook support, I was able to get back in a few days ago.
So perhaps your system flagged the hacking as 'invalid traffic'. Or perhaps it's still registering the Ezoic email address, even though I deleted it. Or perhaps there's another internal reason. But what I absolutely know is that nothing I have done should merit this situation.
---
To say that we are devastated is an understatement. We worked for over a year to get to 1000 subscribers and were so excited to meet the target and get access to new tools. But since then it has been one thing after another, resulting in total loss of any ability to monetise. And, to be honest, dealing with YouTube's support on this issue has been soul-destroying.
Please have a look at the channel. There is nothing unusual about it at all. We don't buy traffic, we don't do porn, we aren't hateful (our whole ethos, as our name implies, is about the majority position, not extremism). We aren't in this to abuse or scam anyone, and certainly aren't in it to abuse or scam YouTube.
All we're asking is for your help to help us associate an Adsense account with The Majority's YouTube channel. Something that should have been trivial, but has taken many frustrating hours of my time. We seem to have fallen through the cracks and would appreciate your help in getting us out.
If you have any further questions, please call me on 0740-350-9949 or email mark@themajority.scot
Best regards,
Mark Devlin
CEO, The Majority
---
The Majority
ACCOUNT SUMMARY
Account 1: Newslines
Account owner: sparzkilla@gmail.com
Purpose: Runs ads on https://newslines.org
Adsense account number: pub-9526863989251717
Business registration: Newslines (The Social News Company Ltd): https://find-and-update.company-information.service.gov.uk/company/SC532497
Account 2: The Majority
Account owner: mark@themajority.scot
Purpose: YouTube monetisation of The Majority's YouTube Channel: https://www.youtube.com/channel/UCSHyPlrk1rRHKJMyMlgwxhg
Adsense account number: pub-9935357792531441
Business registration. Majority Media Ltd: https://find-and-update.company-information.service.gov.uk/company/SC662615
Support ticket: [3-0355000034104]
Invalid click Appeal rejection: [3-0261000034240].