Yesterday, the Independent Press Standards Organisation (IPSO) upheld a complaint brought by Mr Neil Lovatt against The National newspaper. IPSO concluded that The National newspaper fabricated tweets and breached the Editors' Code in a video and article it published in April. The Majority was made aware of this case a few weeks ago, but was not able to publish until it had been appealed and concluded.
The ruling is part of a pattern of hideous behaviour at Newsquest, The National's publisher, which not only publishes anti-English hate; it has provided platforms for two of Scotland's most odious commentators. The newspaper, under editor Callum Baird, also intimidates those who stand against it, as evidenced by the flimsy articles he has published in an attempt to smear us and our writers. (We expect even more after this article).
IPSO SLAPS THE NATIONAL'S FAKE TWEETS
The IPSO ruling comes from a video and accompanying article The National published on April 17, 2021, called 'Indy Myths #3', which is part of a series supposedly 'debunking' myths surrounding Scottish Nationalist's aim of breaking up the UK, sorry, I mean 'independence'.
The video features Lesley Riddoch, a Herald columnist, who was most recently seen hosting the 'Big Indy Event'. Despite receiving hundreds of tweets informing her that Amanda Brown, one of the performers of the event, had been singing pro-IRA songs on social media, Riddoch did not drop the singer.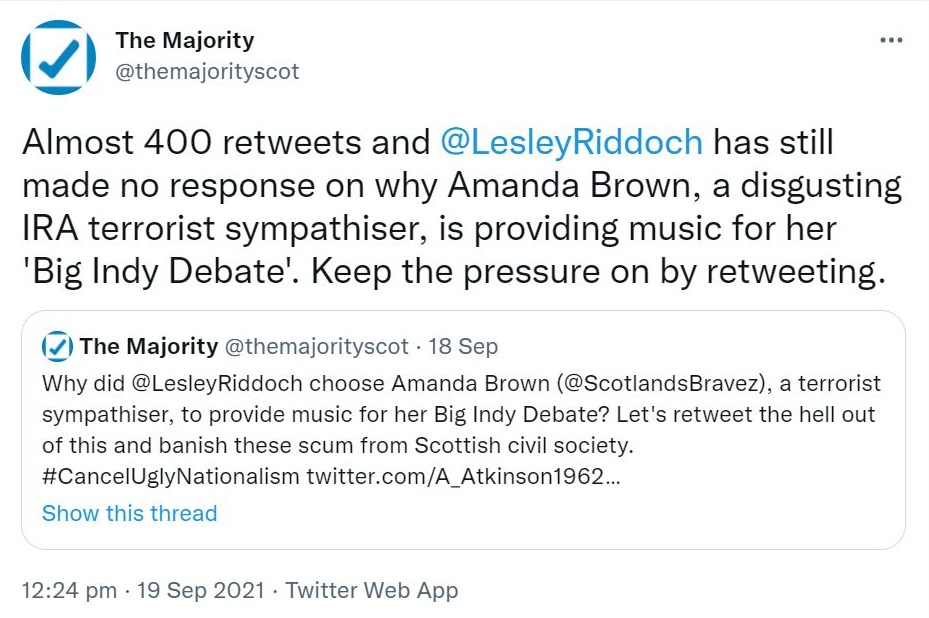 Brown still has pro-IRA songs on YouTube. More on this in an upcoming article.
Also appearing were the Nationalist journalist Pat Kane, a drag queen called Lady Rampant, Mairi McAllen SNP MSP for Clydesdale and Professor Richard Murphy, an Nationalist accountant who doesn't even know how to figure out deficit percentages.
The tweets included such gems as: 'Scotland should never be allowed back in the EU' and 'Scotland has to rely on England to subsidise it', while other tweets were displayed on screen: 'Love the kids, love the wife, hate Europe!', 'It makes no sense to leave one Union and enter another', and 'How can Scotland compete on the world stage without Westminster's help?' which were all purportedly from pro-UK accounts.
These 'well-known Yessers' then reacted to the tweets. Only problem: The accounts were not real and the statements had not been made by real people. The tweets had been faked by The National.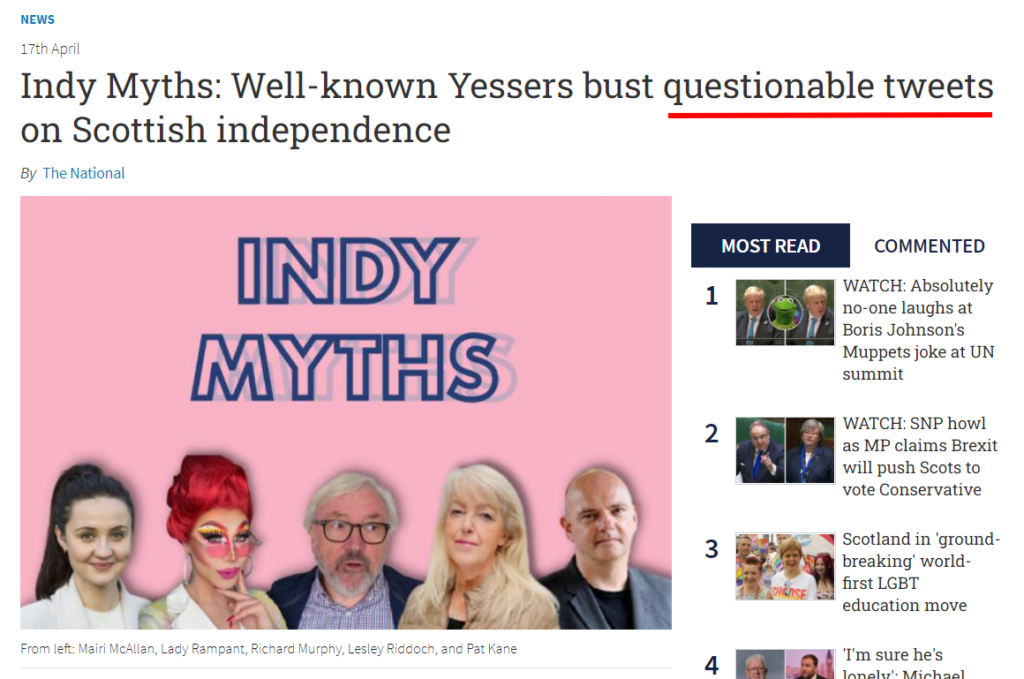 Lovatt complained to IPSO, saying, 'The statements included had not just been ascribed to fabricated accounts, they had not been made by any genuine Twitter users at all, and the publication was therefore fabricating its own myths.'
FABRICATING ITS OWN MYTHS
In response, the newspaper claimed that it used fake tweets because using real ones would lead to 'harassment of individuals online', a tacit admission that those who speak out against Scottish Nationalism will be cyberbullied by The National's own readers.
The IPSO Committee ruled that not disclosing that the tweets were fake constituted a failure to take care not to publish 'significantly misleading' information, breaching the Editors' Code Clause 1 (i):
Editor's Code Clause 1 (i): Accuracy – The Press must take care not to publish inaccurate, misleading or distorted information or images, including headlines not supported by the text.
The Committee ruled:
Given the nature of the video, which was presented as a series of "rebuttals", the presentation of the material as genuine rather than a creation by the publication was significantly misleading and required clarification under Clause 1 (ii) of the Editors' Code.'
The National has been forced to issue a clarification that the tweets were faked on both the article and the video:
Clarification: To avoid any confusion, we would like to clarify that the "daft tweets" that appeared in this video, such as those from "Hardhat Man", "Concerned Stud", "Very Patient Labour Girl" and "Unionist Journalist", were not actually from real Twitter accounts or indeed real people. We made them up for the purposes of this video.

QUESTIONS
The episode raises several questions: Firstly, if Scottish Separation is so great, why do you have to lie about it? It's bad enough that the National lies about 'independence' each and every day, telling its readers that #indyref2 is coming, when there is zero chance of that happening. But to manufacture fake tweets to promote a reaction from a bunch of has-beens? The barrel has been scraped.
Secondly, were Lesley Riddoch, Pat Kane, Lady Rampant, Mairi McAllen and Richard Murphy in on the deception? This is especially worring for Kane, a journalist who styles himself as the independence movement's thought leader. If he, and the other participants, knew the tweets were fake they should apologise to the public for misleading them. Or were they also fooled by The National's editorial team? In that case, The National needs to apologise to them.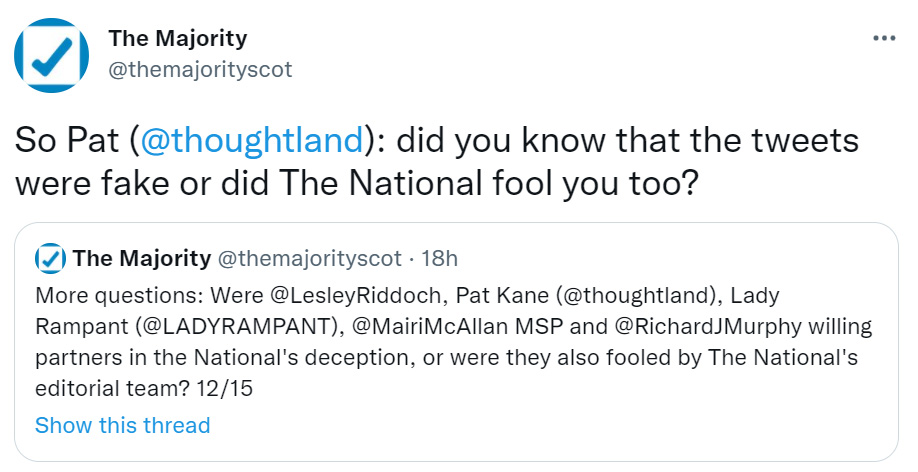 Thirdly, what disciplinary measures have been taken against the creator of the video and The National's editor, Callum Baird, for allowing this deception to be published? What measures have been taken by Newsquest to make sure this doesn't happen again?
Finally, why are Newsquest's CEO, Henry Faure Walker, and Mike Reed, CEO of Gannett, funding The National's fake news?
WHAT IS GOING ON AT NEWSQUEST?
In the past year, the company has engaged in a number of dubious hires. Despite having a verifiable history of offensive tweets and documented abusive online history, of which I have been a victim, Donald Martin, Editor-in-Chief of Newsquest Scotland, hired Janey Godley, the comedian, as a columnist for the Herald.
When Godley was hired, I cancelled my subscription and wrote a letter of complaint. Having her coarse and vile Nationalist rantings delivered to my inbox was a step too far.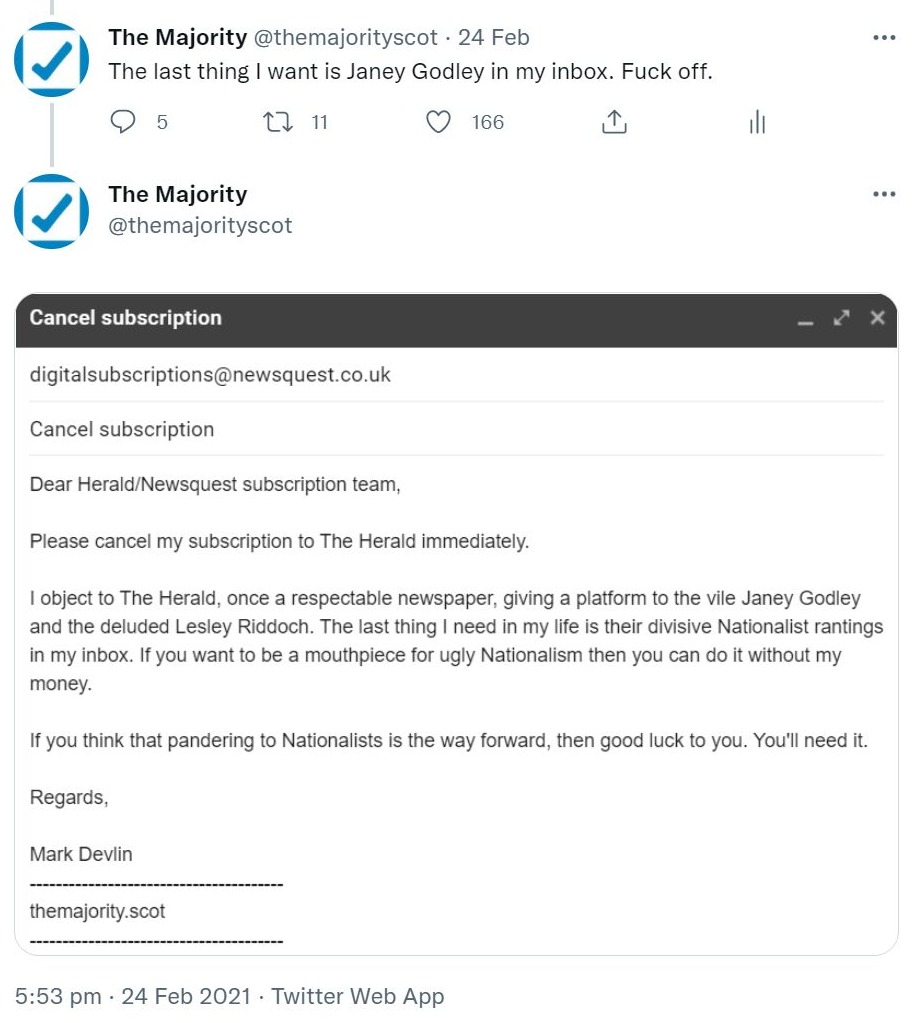 But it wasn't until The Sun and The Daily Beast uncovered even more abuse, including racist tweets, that Godley was forced to step down from fronting the Scottish Governmnet's COVID ads and apologise for her behaviour. Instead of exposing Godley's vile history, the Herald hired her. By the way, I still, haven't had an apology from Janey.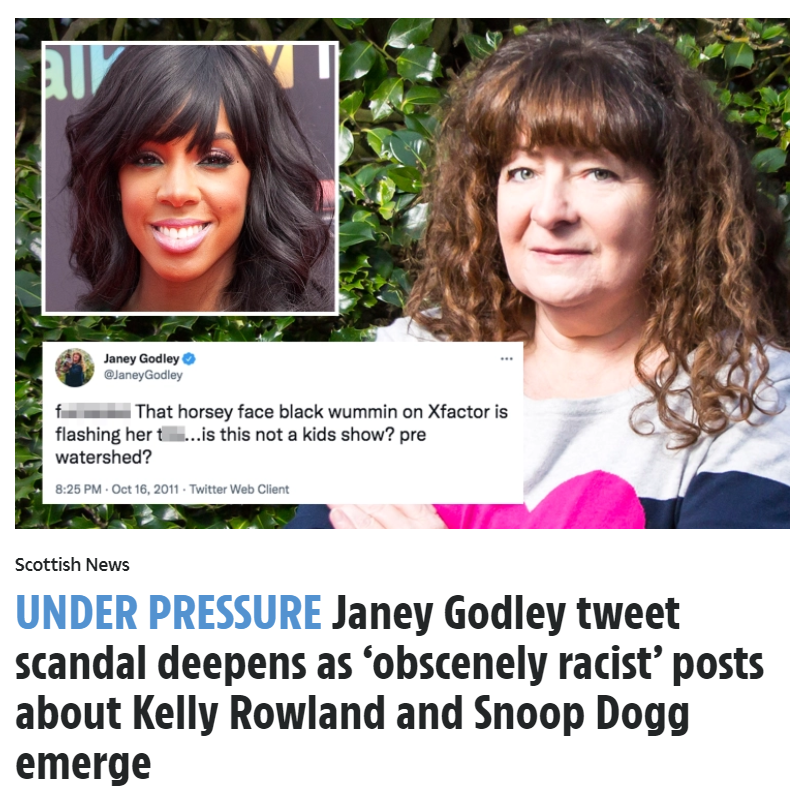 But, at the same time, Donald Martin also hired Lesley Riddoch, who, as noted above, hired a terrorist-supporting singer for her Big Indy Event. It was surprising to me then, and even more so now, that The Herald would tie itself so strongly to Scottish Nationalism, when every poll shows support for a second referendum in decline, not to mention that there is no path to the fantasy of a second referendum.
And now we have The National's editor, Callum Baird, who not only published fake tweets, but tried to brush them off as inconsequential in response to me last night.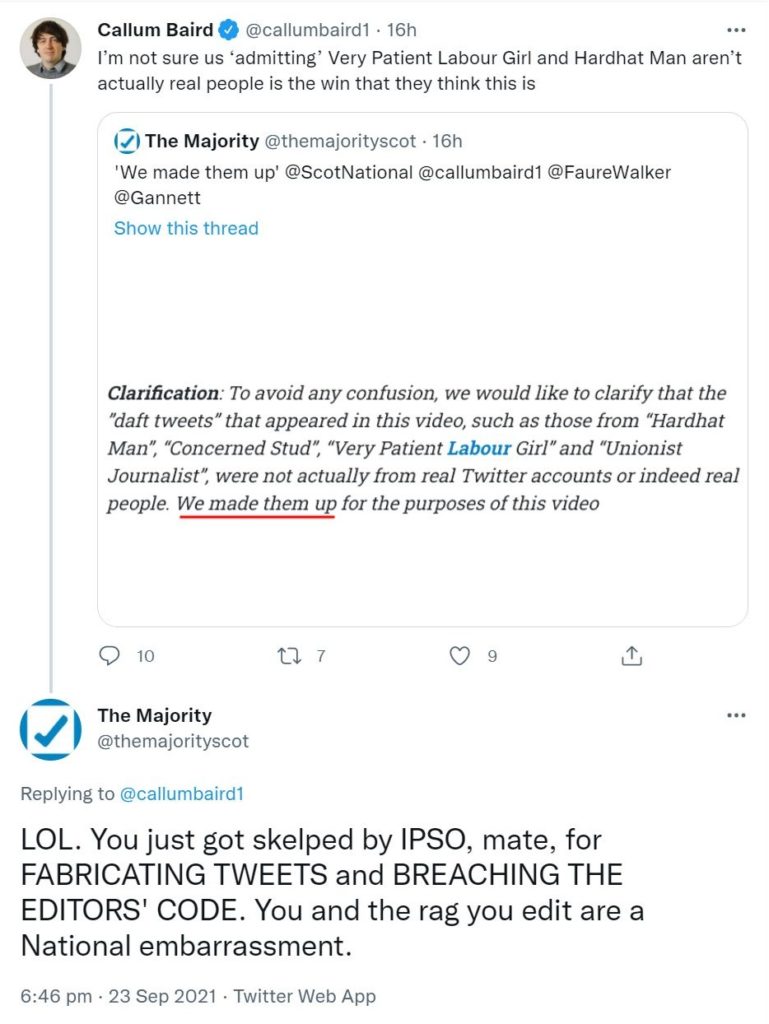 Three awful hires in the same company from a company that continues to publish The National, a newspaper that exists only to amplify division, based on the lost cause of Scottish 'independence'. Why is a major UK company publishing such hate? Why is a US company like Gannett, which I have a lot of respect for, funding hate? Why was a person who made abusive and racist tweets given a platform? Why is someone who thinks nothing of hiring a terrorist supporter also given a platform by the same company?
In the past, with a compliant Scottish media and a cowed majority, this abuse might have been able to continue. But, our community is growing stronger every day. Ordinary people are rejecting this vile and ugly Nationalism and those who profit from promoting it.
CUT OUT THIS CANCER
I direct you to Newsquest's editorial policy:
Our local newspapers are politically neutral in that they are not affiliated with a particular political party or movement.

Newsquest news brands aim to provide accurate reports of news, views and local life to a high professional standard. We want to be the authoritative source of local news that readers can trust.
The National's masthead clearly states, in defiance of Newsquest's Editorial policy, that it is the 'Only Scottish newspaper that supports an independent Scotland.

The National is a propaganda rag that is unashamedly affiliated to Scottish Nationalism, a movement that, masquerading as a noble 'independence' movement, actually aims to break up the UK and diminish all of its citizens. Its history of fake tweets, disinformation and division shows that it cannot be trusted, while its very existence shows that Newsquest cannot be trusted to enforce its own policies.
Something is very wrong. There is a cancer in Newsquest. I urge Henry Faure Walker, CEO of Newsquest to cut out the sickness at the heart of Newsquest in Scotland. If he doesn't, Mike Reed, CEO of Gannett should remove him before it gets any worse..
Mark Devlin is the publisher of The Majority.
To help stop Newsquest and Gannett publishing the National's anti-English hate, please click the image below and sign our petition. Every signature counts.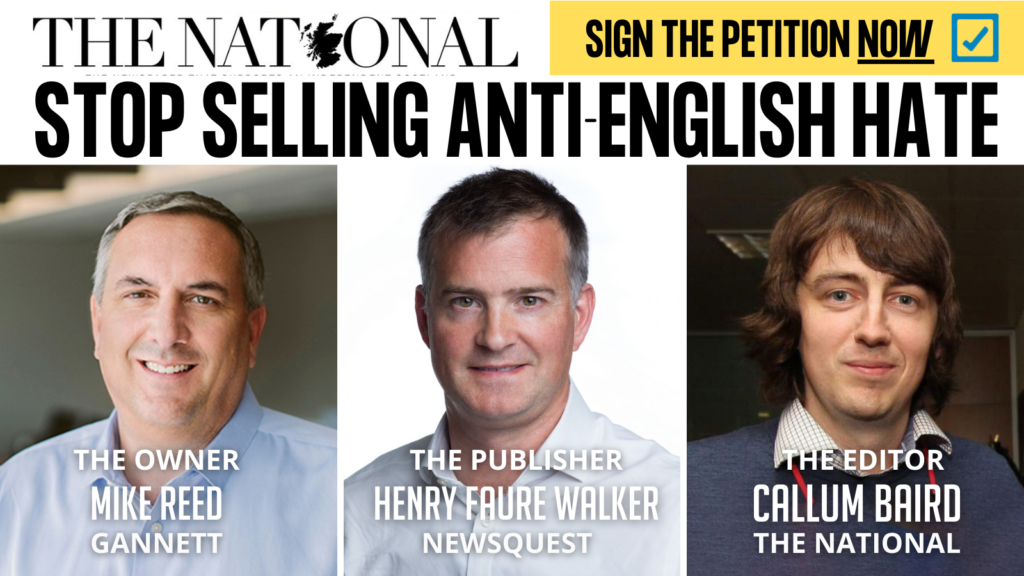 ---
Help The Majority fight for you
Help us amplify your voice with a monthly or one-time donation. Everything, big or small, is appreciated. Thank you for your support!