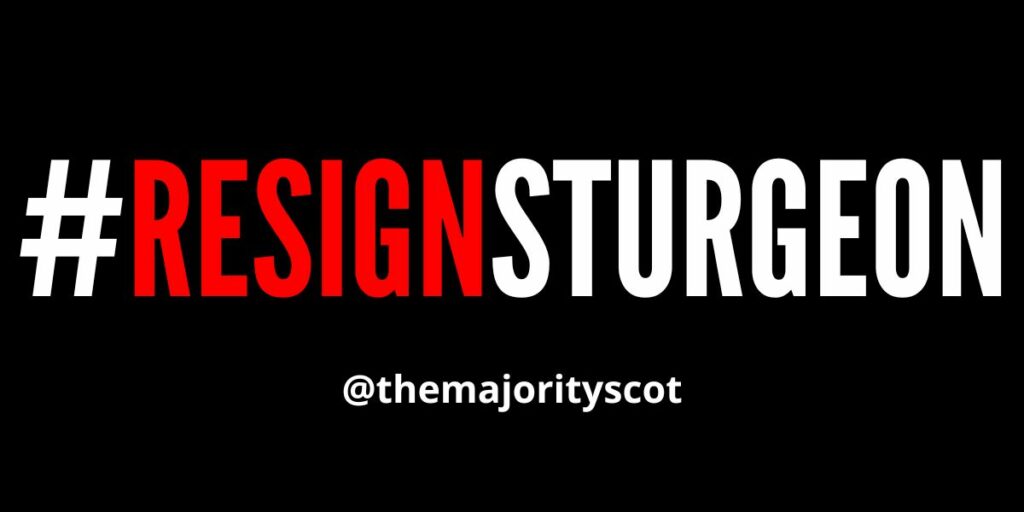 Today, The Majority, with the support of over 150 donors who contributed to a crowdfunding campaign, launches its 2023 #ResignSturgeon billboard campaign, which comprises eight billboards in Glasgow and Edinburgh (see location list below).
The campaign is a simple and direct message to Nicola Sturgeon to take responsibility for her catastrophic handling of the Scottish Government.
Mark Devlin, founder of The Majority:
While the majority of Scots want the Scottish Government to focus on the cost-of-living crisis, energy bills and a failing health service, Nicola Sturgeon has spent the past eight years dividing Scots, promoting Green extremists to government, and picking unnecessary and costly fights with Westminster. Her Gender Reform Bill is just the latest example of how out of touch she is with ordinary Scottish people's priorities. Instead of putting rapists into female prisons, she must resign so the country can move on.
A Panelbase/SundayTimes poll from Feb 11 indicated that 40% of Scots want Nicola Sturgeon to resign now [1], including a growing number of her own supporters. Scots overwhelmingly do not want trans-identifying males to have access to women's prisons [2].
The campaign message — #ResignSturgeon — is part of an ongoing grassroots hashtag campaign on Twitter that has had hundreds of thousands of retweets and responses and regularly appears on Twitter's 'trending' lists of the social network's most popular hashtags.
The campaign is funded wholly by donations to a crowdfunder, run by The Majority, that has raised almost £5600 to date. Funds that come in after the billboards are displayed will be used to promote the campaign on social media. The crowdfunder is here: https://donorbox.org/resignsturgeonbillboards
The Majority's #ResignSturgeon billboard campaigns and aerial banner for the 2021 Scottish Elections were seen by hundreds of thousands of Scots and featured in over 70 newspapers worldwide.
ABOUT THE MAJORITY
The Majority is Scotland's leading anti-Nationalist organisation. Since its founding in June 2020, it has grown to over 57,000 social media followers. It aims to unite Scotland's anti-Nationalist majority and expose Nationalism as a toxic ideology. 
Website: https://themajority.scot Twitter: @themajorityscot Facebook: @themajorityscot
Contact: Mark Devlin 0141-378-6607 mark@themajority.scot
BILLBOARD LOCATIONS
Glasgow
Clydeside Expressway (near BP garage/Hayburn Street)
Aikenhead Road
Ayr Road
Craighall Road
Maryhill Road
Edinburgh
Ferry Road
Salamander Street
Longstone Road
LINKS
[1] Sunday Times/Panelbase poll – 11 Feb 2023 – Four in ten voters want Nicola Sturgeon to resign now https://www.thetimes.co.uk/article/four-in-ten-voters-want-nicola-sturgeon-to-resign-now-wsg0mg0pz
[2] Survation – 10 Jan 2023 https://mcusercontent.com/7a6e180a47e074eb500fa7549/files/41b11075-1f3b-5f62-1d8b-d409aa16fcce/SIU_Jan_Summary.pdf
Asked from a list of options, to choose which issues "the Scottish Government should prioritise"
Cost of living: 62%
NHS: 57%
Energy bills: 44%
An independence referendum: 8%